Mr. Paul Million and the Lincoln Theatre Roy Rogers' Riders Club
Photos are contributed by Fred Blanford and were taken March-April, 1950.
He writes: "For the record: the Roy Rogers Riders Club pictures were provided to me by Paul Million's widow. Paul passed away recently and Helen knew I liked "old" things--pictures included. I do not know who the photographer was."
Memories provided by various LCHS alums (roughly in order received):
Nelson Teichman: "Gosh that Roy Rogers club picture brings a flood of memories back to me. Occasionally, I would get to go to the Sat. Matinee at the Lincoln Theatre at about the age shown in the Picture. I remember Galloping out of the side exit door of the theater into the alley chasing all the bandits etc. etc."
* * * * *
Liz (Stringer) Lolling: "All this talk about Roy Rogers sent me into a frenzy. I still have my Roy Rogers scarf clip. These clips were won from a number on the popcorn box tab drawn at half-time during the Saturday afternoon shows. Also, I have two of the large, picture button badges with Roy Rogers and Trigger. My favorite is my Roy Rogers watch with the original leather band. The watch runs with its picture of Roy riding Trigger. I did collect another watch at a sale; however, it doesn't run. We only lost our cowboy star a short time ago and our collectibles are not that valuable. Just wanted to share if any other classmates have any things saved."
* * * * *
Judy (Lohrenz) Perkins: "I am making a few guesses on the RRRC pictures. I am quite devastated that I am not in any of them. I was at the Lincoln Theater, faithfully, every Saturday with my RRRC ID card in hand ready to win a prize. (Which I did). These [Riders' ID's below] are all uneducated, but intuitive guesses. Any and all input is very much appreciated. I want you all to know that I am very jealous of all of these people. These were WONDERFUL MEMORIES.
Judy continues: "Yes, I did get called upon stage. I think it was everyone who had birthdays for the week. We got a prize. I was then chosen to draw the name out of the barrel. I drew my own name and ended up with 2 prizes. I won money and a gun & holster set. I even remember them taking my picture."
* * * * *
Linda (Henson64) Nelson: I am enjoying the Roy Rogers Riders Club. They had some sort of drawings out of this big barrel. It was in that theater that I remember my first movie. It was you and I--no adult was with us, and you were not happy you had to bring your little sister. It was a Tarzan movie, and I could not understand why he could not talk. You kept trying to explain it to me, and I was not getting it. "Twas the Johhny Wiesmeuller first Tarzan movie when he meets Jane.
* * * * *
Ron Musick: "The pictures of the Roy Rogers club bring back many fond memories -


* There were contests on stage during the break between movies. I remember rolling peanuts across the stage with my nose trying to beat the other contestants to the finish line. As I vaguely recall, the prize was either a ballpoint pen containing several colors to select from or a light shaped like a gun. I didn't win.


* When I turned 12, I remember that I had to buy an adult ticket instead of a child's ticket. As I recall, a child's ticket was 12 cents, and an adult ticket was a quarter. I came to the show with my 12 cents and had a problem.


* Roy Rogers with Dale Evans and Trigger appeared in the area (Springfield, I think) in the early '50's while the Roy Rogers club was active. I remember being taken to see their performance.


* There was a series running with the movies in the Roy Rogers club that involved a hero who strapped on a rocket engine and flew like superman. Each week, there was a new episode.


* I don't think I missed many weeks of the club, but I don't recall any pictures being taken. I wonder if they were taken mainly in the earlier years of the club before most of us in our class joined.
Photos appear in "thumbnail" fashion, except for #14, to facilitate downloading. To enlarge a photo, simply click on it.
Note: Fred Blanford prefaces his identifications with the following caution: "I hope your email recipients are looking at these pics critically. Almost all of my ID's are tentative. Half a century is a long time."
Email additions and corrections to leighhenson@sprintmail.com.
1: The pic was shot in April 1950. Can you identify Lynn Robson Gordon, Kenson Fuller, Linda Berryman, Bud Huffaker, and Jeff "Pete" Frantz?
Fred Blanford: "Third from left front row--suggested to me by another as Carolyn Nichols? Next to the one I ID'd tentatively as Barb Keys.
Third girl from right in second row--dark hair & cap--I would ID tentatively as Joyce Odgen C59.

Second, Sue Loesche Hanger--she confirmed. First (or last) girl from right in 2nd row--tentatively ID'd to me as Linda Berryman (?) ~C60"
* * * * *
Judy (Lohrenz) Perkins: "The picture with Bud Huffaker--I think: In the back row, the second girl may be Judy Hoover? The next to last girl in the back row has to be Sue Lousche (Hanger) Class of '59. I think Linda Cooper may be the first little blond haired girl in the front row."
_____________________

2: Featuring Mike Hayes and Gerry Dehner.
Judy (Lohrenz) Perkins: "The picture with Mike Hayes and Gerry Dehner: I think--Looks like Lynn Robson (Class of '59) standing beside Paul Million."
* * * * *
Fred Blanford: "Second row--far right--tentative--Ray Merry--C56?"
______________________

3: Judith (Heinzel) Gordon: "The second tall boy (chubby one without the hat) is my brother Henry Heinzel (he died in 1991) - I have never seen this picture before - it is great."
* * * * *
Alice (Loomis) Wilmert: "What a nice surprise when I got to work this morning. I don't remember ever seeing that picture, but it was fun to reminisce for a little bit. It was great as a young child to go to the movies every Saturday afternoon."
______________________

4: Fred Blanford: "I had previously ID'd the tall girl toward the right end looking up and to her left (scarf on head) as possibly Jane Fuesting but was corrected by others--and I see it now--should be ID'd as Carlene Ramlow C59.
Front row--Black cowboy hat on to the right: Judy Helton C59. Kathie (Mitchell) Liesman C~60.
Pat Kerrigan Beach Dearborn __________ C61(?)
* * * * *
Janet (Kerpan) Southerlan: "Is that Pat Kerrigan on the right? It sure looks like her!"
______________________

5: Judy (Lohrenz) Perkins: "As to the picture with David Lovelace in it, I think the girl wearing the Railsplitter shirt looks like Nancy Dehner."
* * * * *
Fred Blanford: "The attached--pictures six males. From the left (males only) combining both rows--Dave Lovelace, the younger of the Ferguson brothers--Dan & Don-- (I think Don--I believe married to Rita Montgomery, class of 61. He is a nature artist from around the Springfield area), Morrell Munyon--(if I am not mistaken, although he moved from Lincoln before HS), Dave Hargrove (deceased), one of the Lansford brothers (I would guess Dick from the looks of his face but might have to concede Butch--Charles--Doctor at Carle in Champaign--class of 59) if I am disputed. The shortest male I do not know.
As to the females--second row--commencing with Roy Rogers then to the right--Nancy Dehner class of 58 I think and Marge Coogan Blanford class of 59--although she and I are not positive. The little girl with her hands so deep in her pockets--I should know--but just cannot put a name on her.

Refresh my memory--Steve Schreiber or Carolyn Yeates class of 60?"
* * * * *
Vickie (Spangler) Craig: "Just to keep the record straight - The Ferguson boy in the picture is Dick - He and Rita live in Springfield, IL - Dick is now retired from his "regular job" with a Springfield Advertising Agency but is now under contract for the State of Missouri creating wild life paintings that will be used in Brochures promoting wild life found in Missouri. Dan, passed away last year."
* * * * *
Linda (Sparks) Barrick: "These pictures are great--The girl, 2nd from right is Lee Breeden--they lived on N. Sherman St. next to my grandparents. Her Dad Art was the head rose grower for Gulletts--They moved away probably soon after the picture was taken--I'll print out a copy and send to her--She lives in Wis."
* * * * *
Fred Blanford: "Little fella in the black hat with the Colt codpiece--suggested to me he may be Gary Hodgson C63? or so.
Did Linda mean my wife as second from the right? the little girl with the striking dark eyes as second from the right? or the lighthaired girl as second from the right?"
______________________

6: Fred Blanford: "For this pic--front row from left Jamie Forrester I think--older than I Class of 57 or 56 maybe. Third from left John Farthing unless I am mistaken.

Second row from left--Martha Whitcomb (had a brother Chris that was your age maybe--she would have been class of '58 but they moved). Second is Barney Leesman (sp?) older brother--again class of 57 or thereabouts and third from left Elvin Schmidt--again class of 57 or so.

Far right is Ron Leathers--class of 59."
* * * * *

Bob Glick: "The first boy in the second row I believe is Barney Liesman and the last boy I believe is Ronnie Leathers. Ronnie was our neighbor when we lived at 504 N Logan street they lived on the corner."
______________________

7: Fred Blanford: "Third from left blonde is Marilyn Yeates Weingarz C58--she confirmed.

Marily YW seemed fairly confident of Marilyn Huneke Hoinacki as the taller girl behind her.

Second from right--checked coat & cap was one of Vincent (?I think)
brothers--C59.

Right end--Sandy Jones C59
______________________

8: Linda (Sparks) Barrick: "The girl with the white scarf is Pam Moriearty--Class of '62."
______________________
9: Bob Goebel: "Perhaps the young lady on the far right in RRRC # 9 has already been identified, but if not she looks very much like I remember Luann (Kuhlman) Hoback looking at that age."
______________________

10: Rita Felton, C59.
Leigh Henson: "Here we again see Jeff "Pete" Frantz and Tom Kurtz, my Jefferson School classmates. They seem to be in the photos more frequently than anyone else. How did they do that? If people with birthdays that week were the ones invited on stage, did they "have birthdays" more often than anyone else? Hmmm! Maybe it was that west Lincoln water that caused them to raise their hands at opportune times."
______________________

11:
______________________

12: Fred Blanford: "In rrrc12--I don't recognize anyone for sure. In a lot of these pics, the people look familiar but I just don't know. In this one--I would swear the kid on the left end looks like Jim Spellman--but I don't think they lived in Lincoln then. As for the kid on the right end--could that be John Burt?"
______________________

13: Fred Blanford: "The girl in the hat is Gwen Lisk."
______________________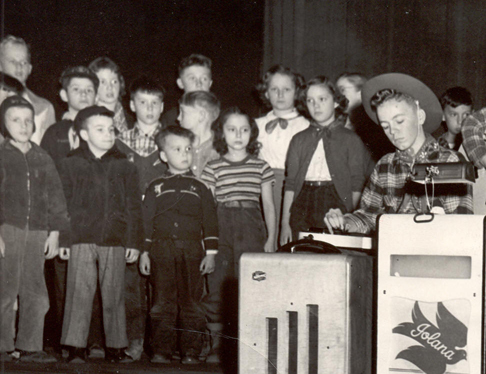 14 (left side): Fred Blanford: "The last pic in the package has a band (lots of guitars) in the right foreground and the participants are older. I think Lute Dearborn is in the middle of the pack--but wouldn't bet the rent money until I get a few people to agree with me."
______________________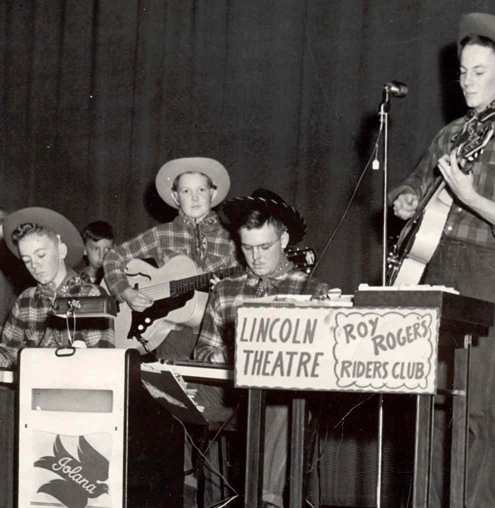 14 (right side): Were Club members into C&W before it was cool?
* * * * *
From http://www.lincolndailynews.com/:
"Paul Million, 83, of Lincoln died at 1 a.m. Wednesday, April 25, 2001, at Memorial Medical Center in Springfield.
Graveside funeral services will be at 11 a.m. Friday, April 27, at New Union Cemetery in Lincoln, with the Rev. Thomas Taylor officiating.
There will be no visitation.
Million was the former manager of Lincoln Theaters in Lincoln and Freeport.
He was a U.S. Army veteran of World War II. He served in Europe, held the rank of major and was a POW toward the end of the war.
He was born June 14, 1917, in Decatur. He married Helen Young on Dec. 27, 1941, in Hannibal, Mo. She survives.
He was of the Catholic faith. He was a member of Lincoln Elks Lodge and Lincoln American Legion Post 263."